UPCOMING WORKSHOPS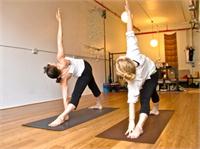 Beginner's Yoga Workshop

with

Francesca

Marini
Next held on Sun, Jul 24, 2016 at 12:00 pm - 1:00 pm
This
enrollment
runs from Sun Jul 10, 2016 - Sun Jul 31, 2016
Come learn the fundamentals of yoga that will allow you to attend any regular yoga class with confidence! You will learn basic yoga poses, how to "flow through the vinyasa", some alignment principles, and most importantly, how to use your breath in poses.

All are welcome! No matter what shape you're in or what kind of lifestyle you lead - anyone can do yoga!!!

Sundays July 10, 17, 24, 31 - 12-1pm - $40
Costa Rica Teacher Training 2016

with

Ella

Luckett
Next held on Sun, Oct 9, 2016 at 9:00 am - 6:00 pm
This
enrollment
runs from Sun Oct 9, 2016 - Sun Oct 30, 2016
The Jai Yoga Teacher Training is a Yoga Alliance registered school, and offers a comprehensive education in the physical, philosophical, and spiritual components of yoga. You will receive a full spectrum of experience to shape your teaching, and strengthen your personal practice. An inward journey,a bonding experience with fellow students, Yoga Teacher Training can be a support for a transitional point in life whether you decide to teach or not. Many Jai graduates report a deep sense of calm, happiness, increased confidence, and clarity of personal and professional goals. We welcome you to join us on this incredible journey!
October 9-30, 2016.
BLog
Transitions
It's so easy to get wrapped up in our next step that we forget to enjoy the moment of taking that step. For me, my morning commute is a perfect example. I jump on the train, and all I am thinking about is getting to work. It's almost as if my mind is already at work and I'm just waiting for my body to arrive to join. I am not present in this moment. The act of getting to work is equally as important as being at work. Every moment in our lives is important as another. Every breath has a meaning- we are here, and with every step we arrive. Rushing through and thinking ahead just causes us anxiety and stress.
It's ok to look forward to something but it's important to enjoy the time in between. Just because there is somewhere else we would rather be doesn't mean that is where we need to be. Stay present!