Deepen The Flow...

Take your practice to the next level and explore becoming a yoga teacher

In this 3 week course you will learn:

The Yoga Sutras
Energetic Alignment of postures
Introduction to hands on support
Rythem and flow of the Sun Salutes
Purpose and power of Ujjai Breath
Meditation techniques
Introduction to teaching the sun salutes



3 weekend intensive program:



Saturday, January 21st 2pm - 5pm
Sunday, January 22nd 2pm - 5pm

Saturday, January 28th 2pm - 5pm
Sunday, January 29th 2pm - 5pm

Saturday, February 4th 2pm - 5pm
Sunday, February 5th 2pm - 5pm



Weekly Schedule



2pm-3pm Yoga sutras lecture and discussion

3pm - 3:20pm Meditation

3:20pm short break

3:30-5pm
Yoga postural alignment
Principles of teaching and leading
Practice teach sun salutes
Learn hands on support



Receive your "Module One Certificate", applicable towards the full 200hr Yoga Teacher Training certification through Jai Yoga Arts.



PRICE:

$

699


Fill out the form below, or

CLICK HERE

to reserve Your Space NOW for a special price of $499!


I'm interested in Deepening the Flow!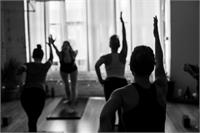 Deepen the flow!

with

Ella

Luckett
Next held on Sat, Jan 21, 2017 at 2:00 pm - 5:00 pm
This
enrollment
runs from Sat Jan 21, 2017 - Sun Feb 5, 2017
Learn More
BLog


Courage comes up from the deepest depths of my soul. It is something I do not need often, so when I do, it feels foreign, hidden. I can't remember where I put it, or how it feels to use it. I spend a lot of time resisting the action that requires it, because in darkness, I doubt I have enough.
Courage is not entirely my own. I own the seeds, and breathe life into it, but it gains strength from the eye-light donated by friends.
Courage comes at a time when no evidence gives me cause to believe, and no map directs my steps. I curl my toes into new earth, I turn to face a new will, I move from the call of an unheard of wind. Courage gives me weight and vision from inside a black out dust storm that I have conjured.
And so my old friend, though you are always there, it is only a few times in my life that I need you to stand tall inside me and flood my arms and legs and voice with the richest blood from my heart.
I need you now. It has been years. Please come up and fill the space between the comfortable old and unlit new. I will look for the gazes that feed you, I will breathe full and pound my heart, and you will clarify my reflection in the mirror.
-Ella Luckett