Jai Yoga is a vinyasa yoga practice influenced by Astanga, JivaMukti, and Prana Vinyasa. The class emphasizes the use of Ujjai breath, and meditative mind for a powerful physical practice and deeply restorative experience. Each class contains a brief dharma discussion, Ohm, occasional chanting, sun salutes, and asanas paired with a dynamic flow of vinyasa. The All Flow classes move at a medium pace, and the Easy Flow moves at a slower pace. In both classes we flow from one pose to the next without a lot of talk time between postures, yet alignment cues are given while in the postures as well as inspirational connection to the philosophy behind yoga. The emphasis is on a holistic and blissful experience of the mind heart and body.


UPCOMING WORKSHOPS IN 2016!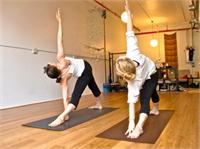 Beginner's Yoga Workshop

with

Francesca

Marini
Next held on Sun, May 29, 2016 at 12:00 pm - 1:00 pm
This
enrollment
runs from Sun Apr 3, 2016 - Sun Apr 30, 2017
Learn More
Dvesa is an obstacle (klesha) in the way of freedom. It is our avoidance of pain. I noticed during the spring month of April that I had a lot of internal rules that helped steer me clear of things which even remotely reminded me of past pain or echoed possibility of pain. I'm, at times, too good at learning. Having built up a stockade of "don'ts" I realized this month it was time to tear them down and let myself walk into fires that once burned me. Testing my new layers of unshakable peace and love. You know what? I have learned how much I've grown, how much courage has built up under my scabs, and now I no longer need those thick shells to feel protected. Life is richer, more open, and I am grateful for every new experience, welcoming it in whether it carries potential for pain or not.
--Ella Luckett