Flow & Restore
This class is taught by: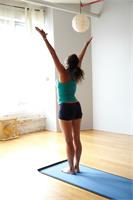 All the Jai teachers are hand selected for their deep commitment to yogic principles, solid teaching skills, and warm personalities.
"Jai Teacher" just means it is a slightly newer teacher to the Jai team and we haven't gotten them into the computer yet. But you can have every confidence you'll have a great time in these classes! Come and enjoy! :)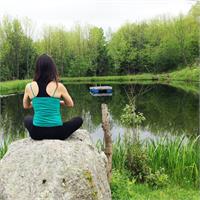 Miriam has been exploring yoga for the past 8 years. She ventured to north India in 2012 to accomplish her first 200 hr teacher training in Rishikesh Yog Peeth, where her journey as a teacher began. Later in 2014 she continued her education in Bali Indonesia at Zuna Yoga 300 hr teacher training under the Tantric tradition.
She is passionate about inspiring yoga thru practice and art. She believes that practice it's about finding what serves you in the moment to develop creativity in life to empower the body, mind and spirit, aligning them with your highest intentions. Currently teaching at class at Jain Yoga Arts in Brooklyn, her class is an ashtanga based sequence. A complete flow and endurance building vinyasa. visit: miriamcastillo.com/#/yoga-series/ and yogafor.us
End your weekend with the perfect blend of All Flow & blissful relaxation! Start with a breath-connected Vinyasa flow, end with restorative postures. Perfect for all levels.
Upcoming classes:
Sign Up

Sun

Jun 25 7:15 pm - 8:30 pm

with

Jai

Instructor




Sign Up

Tue

Jun 27 7:00 pm - 8:15 pm

with

Miriam

Castillo




Sign Up

Sun

Jul 02 7:15 pm - 8:30 pm

with

Jai

Instructor




Tue

Jul 04 7:00 pm - 8:15 pm

with

Miriam

Castillo




Sun

Jul 09 7:15 pm - 8:30 pm

with

Jai

Instructor




Tue

Jul 11 7:00 pm - 8:15 pm

with

Miriam

Castillo




Sun

Jul 16 7:15 pm - 8:30 pm

with

Jai

Instructor




Tue

Jul 18 7:00 pm - 8:15 pm

with

Miriam

Castillo




Sun

Jul 23 7:15 pm - 8:30 pm

with

Jai

Instructor




Tue

Jul 25 7:00 pm - 8:15 pm

with

Miriam

Castillo




Sun

Jul 30 7:15 pm - 8:30 pm

with

Jai

Instructor




Tue

Aug 01 7:00 pm - 8:15 pm

with

Miriam

Castillo




Sun

Aug 06 7:15 pm - 8:30 pm

with

Jai

Instructor




Tue

Aug 08 7:00 pm - 8:15 pm

with

Miriam

Castillo




Sun

Aug 13 7:15 pm - 8:30 pm

with

Jai

Instructor




Tue

Aug 15 7:00 pm - 8:15 pm

with

Miriam

Castillo




Sun

Aug 20 7:15 pm - 8:30 pm

with

Jai

Instructor




Tue

Aug 22 7:00 pm - 8:15 pm

with

Miriam

Castillo




Sun

Aug 27 7:15 pm - 8:30 pm

with

Jai

Instructor




Tue

Aug 29 7:00 pm - 8:15 pm

with

Miriam

Castillo