All Community ($7 min. donation)
This class is taught by:
Molly was introduced to a mindfulness and yoga practice as a way to battle anxiety and depression during her freshman year in college. She was immediately drawn to the power of the breath and its ability to connect the mind and body as one. Molly received her 200-hour training with the Soma Yoga Institute in Costa Rica, where she realized each student is also their own true teacher. She encourages students to practice self-care, mindfulness, and to find trust from within!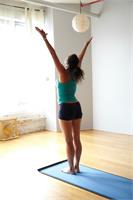 All the Jai teachers are hand selected for their deep commitment to yogic principles, solid teaching skills, and warm personalities.
"Jai Teacher" just means it is a slightly newer teacher to the Jai team and we haven't gotten them into the computer yet. But you can have every confidence you'll have a great time in these classes! Come and enjoy! :)
This is an active vinyasa class where both beginners and experienced students practice side by side. The teacher offers options to meet each persons needs. You will connect breath with movement to unlock the body's tension and relieve stress while building core strength and mindful focus. A healing and energizing experience for "All" levels.
*For Jai Members, included in membership - no donation necessary*