Cayla Buettner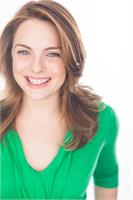 Cayla Buettner is a Yoga Alliance certified yoga instructor, and Jai graduate, teaching the Jai Yoga Sequence She took her first yoga class at 8 years old, looking at her older sister to help her tell left-from-right in attempts to twist into odd pretzel shapes. She continually returned to yoga as a crutch to cope with all the major feelings through adolescence, until she dove into a consistent daily practice later in life. She studies meditation under the guidance of John DiLeva Halpern, and practices Vinyasa yoga with Ashtanga, Kripalu and Kundalini influences. She encourages her students to return to their inner child when they enroll their mats to connect with their inhibited, creative spirit and cultivate a deep sense of playful awareness within their personal experiences.
Cayla Buettner instructs the following:
A nice mellow flow class, perfect for beginners, or people just getting back into yoga after some time away. Even the advanced practitioner who just wants a relaxed fluid class, will enjoy this sweet meditative flow class.