Oihana Camblong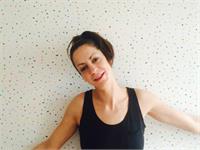 Oihana received her 200-hour Teacher Certification at Jai Yoga Arts. She is a life long learner, openhearted, playful and dedicated spirit who has been maturing her practice since 2010.
She links traditional yoga teachings with the contemporary environment, connects the physical tangible aspects with the mental abstract parts. Oihana hopes to bring a breath of peacefulness to busy New Yorkers, help develop body and mind awareness, balance activity and passivity (push and surrender) in postures and in life, and naturally cultivate self care.
Originally from Basque Country in southwestern France, she lived three years in London before moving to New York in 2010. Design lover, music nerd and freedom seeker, she fell face first into the exciting but demanding life of the big city. She came across yoga while she was exploring different approaches to find balance in her transition and to calm her eczema. This philosophy became a tool to nurture her capacity to adapt and stay grounded whilst facing impermanence of things - a way to live in sync with her ideas and to build her freedom.
Each piece of our existence is connected. As we are individuals with a singular story, what constitutes our balance is also subjective.
Oihana Camblong instructs the following:
This is an active vinyasa class where both beginners and experienced students practice side by side. The teacher offers options to meet each persons needs. You will connect breath with movement to unlock the body's tension and relieve stress while building core strength and mindful focus. A healing and energizing experience for "All" levels.