Katie Higginbotham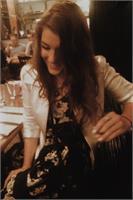 Katie first began practicing yoga in college, when her body was dealing with leftover injuries from her previous time as a competitive cheerleader and gymnast. She fell in love with yoga because it helped her regain awareness of her body, but also calmed her fluttering mind. In 2016, she completed the Jai Yoga Arts 200hr Teacher Training in Brooklyn and was enamored with every minute of it. With the yoga practice, she hopes to reawaken the confidence and playfulness in each student's body. Each day is different, so she encourages her students to listen and grow within their own body. She brings warmth and comfort into her practice that she hopes filters into each student's life. Katie will always make sure your body moves with your breath - that is the key to opening the mind and unlocking the heart. Smile and enjoy her class!
Katie Higginbotham instructs the following:
This is an active vinyasa class where both beginners and experienced students practice side by side. The teacher offers options to meet each persons needs. You will connect breath with movement to unlock the body's tension and relieve stress while building core strength and mindful focus. A healing and energizing experience for "All" levels.