Devon Seelig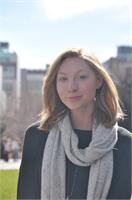 Devon Seelig was introduced to yoga at a young age by her mother who is also a yoga teacher. Though surrounded by yoga growing up, she did not form a personal connection to her practice until going to college. At first, she looked to yoga to increase strength and flexibility, but soon found a much deeper connection to the practice. Devon gained her yoga teacher certification from Satchidananda Ashram where she lived and trained for one month. Devon's classes make students feel welcome, comfortable, and cared for. She creates an environment that encourages students to go beyond the physical and connect to the peace that is within each and every person. In addition to physical postures, each of her classes includes pranayama (breathing practices) and ends with a guided relaxation. Throughout her class, mindfulness and connection to breath are emphasized to help students stay safe and present for the entirety of the class. Devon feels honored to share the teachings of yoga.
Devon Seelig instructs the following:
This is an active vinyasa class where both beginners and experienced students practice side by side. The teacher offers options to meet each persons needs. You will connect breath with movement to unlock the body's tension and relieve stress while building core strength and mindful focus. A healing and energizing experience for "All" levels.