Kelsey Wahl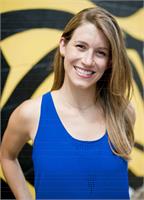 Kelsey initially turned to yoga to ease chronic back pain, but quickly discovered the tremendous power of yoga to heal the mind and spirit—as well as the body. She completed her 200-hour teacher training at Jai Yoga Arts to deepen her practice and learn how to share that practice with others. In her classes, Kelsey hopes to help students discover what brings steadiness and joy to their lives and cultivate those feelings through the practice of yoga. Her classes are calming, yet lively, and encourage students to find peace in every pose.
Kelsey Wahl instructs the following:
A nice mellow flow class, perfect for beginners, or people just getting back into yoga after some time away. Even the advanced practitioner who just wants a relaxed fluid class, will enjoy this sweet meditative flow class.




This is an active vinyasa class where both beginners and experienced students practice side by side. The teacher offers options to meet each persons needs. You will connect breath with movement to unlock the body's tension and relieve stress while building core strength and mindful focus. A healing and energizing experience for "All" levels.