Florencia Fridman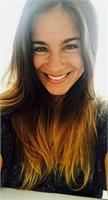 Florencia Fridman found yoga in her late teens while looking for tools to learn self-love. She received her teacher training at Laughing Lotus in the summer of 2013. Florencia's mission is to facilitate an experience where people find the self-limitation beliefs and transcend them through the playfulness of the body and connection to the breath. Her classes are a balanced duality of challenge and ease, building nourishment and strength.
Florencia Fridman instructs the following:
This is an active vinyasa class where both beginners and experienced students practice side by side. The teacher offers options to meet each persons needs. You will connect breath with movement to unlock the body's tension and relieve stress while building core strength and mindful focus. A healing and energizing experience for "All" levels.