Daria Berseneva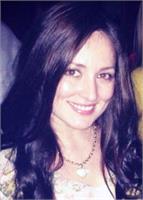 Daria has been practicing yoga for ten years before completing her 200-hour training at The Bhakti Center in New York. She believes regular yoga practice brings powerful shifts in the body, mind, and life of a practitioner. In her classes Daria is guiding students through sequences with an emphasis on increasing the energy flow and heat in the body through breathing and physical alignment. Her classes create challenging yet nurturing environment that will help practitioners to experience a real change on and off the mat.
Daria Berseneva instructs the following:
This is an active vinyasa class where both beginners and experienced students practice side by side. The teacher offers options to meet each persons needs. You will connect breath with movement to unlock the body's tension and relieve stress while building core strength and mindful focus. A healing and energizing experience for "All" levels.




A nice mellow flow class, perfect for beginners, or people just getting back into yoga after some time away. Even the advanced practitioner who just wants a relaxed fluid class, will enjoy this sweet meditative flow class.