Jai Yoga Arts 200 Hour
Teacher Training



Graduate with Confidence

About the Program
The Jai Yoga Teacher Training program is a Registered Yoga Alliance School (RYS200). Your graduation certificate from Jai allows you to register with Yoga Alliance as a certified Yoga Teacher and be recognized worldwide for a standard of excellence.
The Training includes detailed instruction in:
Postural Alignment
Teaching Methodology and Technique
Class Structure
Breathing Technique (pranayama)
Yoga Philosophy including the Yoga Sutras of Patanjali
History and Lineage
Meditation
Chanting
Chakras
Anatomy

Injury Prevention

Modifications for Injured and Pre-Natal Students,
Practice Teaching
Hands On Adjustments
Business of Yoga
---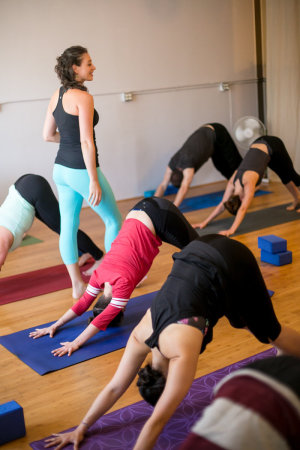 About the Teacher

Ella Luckett, E-RYT is a Yoga Alliance certified yoga instructor with 14 years of professional teaching experience and over 800 hours of advanced training. She was first certified in Ashtanga Yoga in 2001 with Larry Shultz at one of the first yoga schools of San Francisco, "It's Yoga". Later, in 2004 she obtained her 300 hour certification in Jivamukti Yoga with world renowned Jivamukti founders Sharon Gannon and David Life. Ella continues her lifelong education through many prestigious teachers such as Shiva Rae with whom she is in the process of obtaining her advanced certification in Prana Yoga and Trance dance. She also studies Mantra Meditation with Gadahara Pandit, and has over a decade of Vedantic Yoga studies at Ananda Ashram in New York. Ella began leading YA certified Teacher Training Programs in 2008. In 2011, she opened her New York City based Yoga studio, Jai Yoga Arts, and now leads teacher trainings there, and all over the world.


About the Jai Yoga Style


Jai Yoga is a blend of ashtanga and vinyasa yoga emphasizing breath and body connection for a powerful physical and deeply meditative practice.
A Jai yoga class is a vinyasa class designed to be a moving meditation with a strong emphasis on breath, body, and mind connection. But the Jai system of yoga goes uniquely beyond the mat. The distinction of Jai Yoga from other systems of yoga is the emphasis on satsang, "Good Company." At Jai we believe that the people you connect with both in your yoga class and in your work and home life, are as important as your individual practice. Every Jai class, workshop, retreat and training has a heavy emphasis on supporting strong relationships in our lives.

Too often teachers and practitioners get lost in the details of practice that spiral inward on the practice itself. Investigating further into the "how" becomes the focus instead of the "why." At Jai we never forget that we practice to live, not live to practice. While practicing is so uplifting we look forward to it, and make it an integral part of our lives. It never eludes us that practicing is a practice for "life" not a practice for a pose.

At Jai we practice to find peace within, so that we can feel more at peace with others. We understand the practices are not there to excel at, as a contained practice on the mat, or on the meditation cushion. The results of the practice are only measured by the increase in happy, authentic, productive, fun and loving relationships in our lives. Welcome to the Jai difference.

Often, this means that the people who come together to practice in the Jai system find friendships with their classmates. Just as often, students report increased wellness in the relationships outside of our studio, or retreat centers. From work to home life, the goal of practicing Jai Yoga is to better our connection with people. That's the Jai difference.



"Ella has a wealth of knowledge. Her profound connection with yoga is shared in each lecture and class. Meticulous and thorough is an understatement. She's a book I wish I could carry and crack open. Asana, philosophy, meditation, anatomy, alignment, and spirituality l we're all taught with equal measure. I feel fully equipped and I am leaving confident." -Holly S. (YTT Nicaragua, 2017)


Ella was a lovely teacher. I was touched by her wisdom that was shared with the group and also her insight delivered for each of her students. Ella was an example of a confident, passionate teacher and she inspired me!
--Colleen F (YTT Costa Rica 2016)


My expectations were exceeded. The whole program was amazing. Ella, the sequence, the location, the food etc. For me it was the journey to myself in every conceivable way.
--Anna S (Costa Rica 2016)

"Wow, this Yoga Teacher Training at Jai Yoga Arts was absolutely amazing and life-changing. Before the training, I felt like my life had reached this ceiling, I was stagnant. I went into it thinking that I was just going to learn the technical elements of being a yoga instructor, but I have gained such a better understanding of myself through and through. Now ten weeks later, I feel so alive, so enlightened--I feel that I now have my wings to fly, that I have my voice to express myself truthfully. I could not thank Ella and the Jai community enough for the space they created.
"
--Paul Morales (YTT New York, 2014)
Doing the Jai Teacher Training is one of the best choices I have ever made. I went in wanting to help other people but in turn found that I had truly helped myself. I became centered, unified, and more able to deal with life's chaos. Jai Yoga Arts and Ella have helped foster immense growth within me, and in turn has given me the best foundation to become a teacher that can hopefully help others do the same with their lives. The training is all encompassing in the wellbeing of your mind, body, and soul. The wisdom and passion exuded by the Jai team and Ella Luckett will both empower and guide you to become a better person and in turn the best teacher you can be.
--Morgan Elliott (YTT New York, 2013)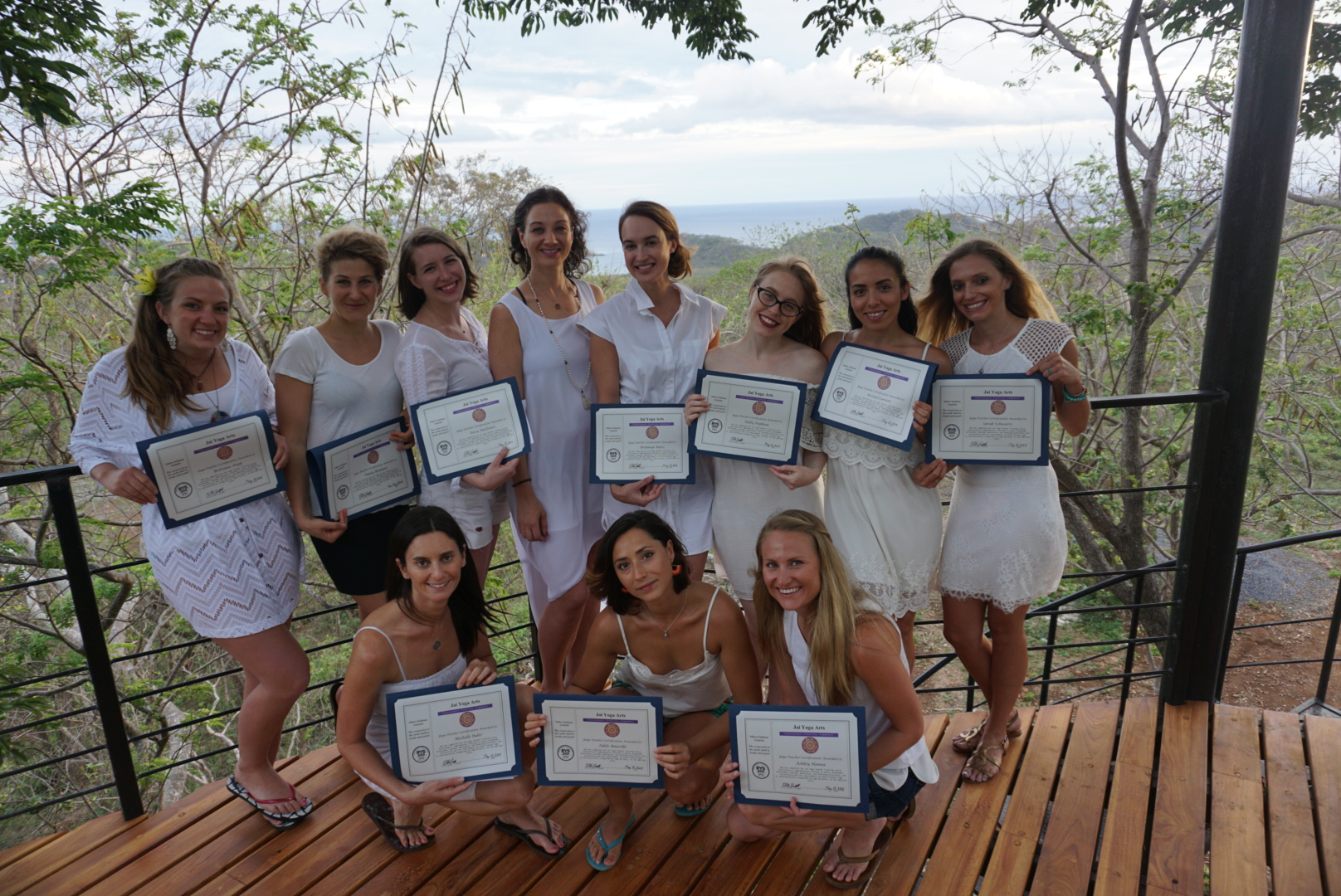 "I feel fully prepared to be a teacher! I am leaving with such an appreciation for life and myself that I couldn't of found anywhere else. I loved the spiritual aspect, as well as how informed we are all about the practice, breath, and the body. Ella is so beautifully human. Often teachers are seen as this unobtainable knower of all but she showed us it's okay to be ourselves… Ella's love for life, yoga, and those around her is very apparent. I have learned so much more in these three weeks and it excited my passion for life in ways I never knew." -Sarah S. (YTT Nicaragua 2017)
The Jai Yoga teacher-training program utterly surpassed my expectations. Ella's dedication to high quality content and the rich experience of her students is second to none. Every day is carefully tailored to your emotional, physical and educational journey, harnessing the very foundations of yoga that you are studying. I would 110% recommend the training to others.--Charlotte Cooper (Costa Rica 2016)
"The teacher training at Jai taught me the fundamentals, all important aspects of Yoga, theory and a very profound practical teaching. Ella was looking at each aspiring teacher individually and accompanying them to help us become the best possible teachers and Yogis. The insights and processes during the training were transformative in the best possible way. It was a true blessing, and was one of the most important and best decisions of my life. We all became friends and supported each other, thanks to Ella and her studio's environments influence. In the end I couldn't have wished for a better teacher. She shared all her over fourteen years of teaching Yoga experience and in such a professional yet personable way - it's truly beautiful.
--Hannes Bend (YTT New York, 2014)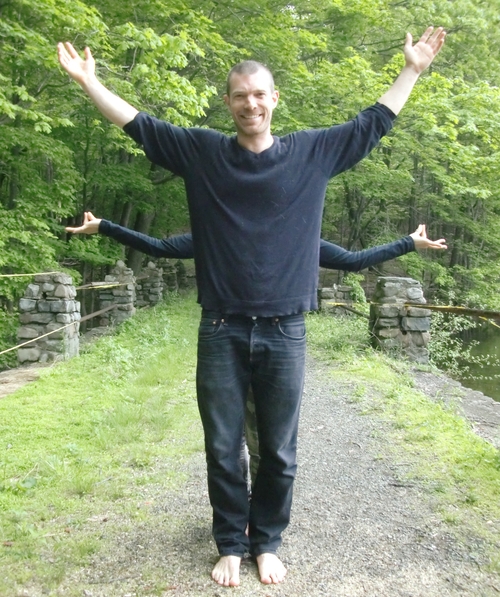 I am so lucky to have taken the Yoga Teacher Training at Jai! Ella is such a sincere and joyful person. A knowledgeable strong teacher with an open mind, clear vision and pure intention, she was the perfect teacher to lead me on this path. The training is very well designed to graduate with confidence and grace! Our group's vibe was amazing and everyone was so open minded and accepting. The size of the group was perfect, we all got agood amount of attention and plenty of experiences to share. I feel very well nourished from our training and excited to start sharing my practice with the world!
--
Dina Liss (YTT New York, 2014)
---
"The teacher training program at Jai revolutionized my practice. Yoga always felt like something physical for me, and I knew I wasn't connecting to its deeper realms; as if it were more important to do fancy arm balances than know a tranquil spirit. I have not reached enlightenment, but in ten weeks of TT with Ella and the other ten trainees, I was really allowed the space to sit with myself. To ask the tough questions and apply the solutions. All of this was achieved through a great deal of reading and group discussion, which was always an open door to expression....I like that we were given the tools as both teachers and students..."
--Chelsey K (YTT New York, 2014)
"Ella is rooted firmly in her practice and extremely knowledgable when it comes to all aspects of yoga: mind, body, anatomy, philosophy, meditation, and teaching principals. I'm pretty sure you'll never find a better YTT 200 if you want to prepare yourself to teach. Jai Yoga Journeys and Ella will give you all the tools to feel confident in auditioning to be a teacher or to simply gain more knowledge of yoga to deepen your own practice." -Ashley H. (YTT Nicaragua 2017)
Ella is a fantastic teacher. I felt wholly supported during every step of the process. Ella finds what is unique about each teacher and draws it out throughout the training. Her love of teaching is infectious and she establishes a comfortable balance between using her experience as an example and giving teachers space to explore their own experiences. Hannah T. (Costa Rica, 2016)
"Doing the Jai YTT turned out to be one of the best decisions I've made. The program took us on a journey of learning that included history, philosophy, asana, adjustments, anatomy, meditation, and self exploration. I never imagined that I could get so much out of 200 hours...it brought light to my life, and deepened my practice in a beautiful way. By the end of the training, I felt ready and excited to share my practice with others. Ella has a gift of connecting with others that translates into her teaching. Her classes are full of warmth, wisdom, and challenges. Her knowledge of yoga and the way in which she teaches, is from a place of extensive experience and a true understanding of the practice. I could have listened to her talk about the philosophy behind yoga for hours, just taking in everything she had to offer us. I left each day of training feeling like I was on a path to something amazing."
--Erin Bronwell (YTT New York, 2014)
---
Through intense immersion, the spirit of yoga grew in everyone of us. I never could have expected the transformational process that would ensue. If you want your practice to take on meaning, I'd do your teacher training at Jai."
--
Cayla Buettner (YTT New York, 2013)
---
Although I dove in head first only wanting to deepen my practice, I came out confident and ready to teach and share my knowledge and experience with the rest of the world. Through the program at Jai, Ella instills confidence in her students and teaches a well-rounded wealth of yogic knowledge through asanas, philosophy, anatomy, adjustments, meditation, sequencing and most importantly, how to shine that brilliant light that lives inside each and every one of us. If you have even a spark of curiosity and desire to do yoga teacher training, I only have two words: DO IT!
--Josie Ng (YTT New York, 2014)
---
"So often we search the outside world for meaning and purpose, but through my yoga training with Ella I was able to find purpose within myself. The yoga training program with Ella was an amazing experience that taught me how to share my love and passion for yoga with each student I teach. I would recommend the Teacher Training program to anyone who seeks to share their love for yoga with the world."
--Erika Beaton (YTT New York, 2012)